PASSION FOR LIFE

Joan Collins
Constable, $29.99
Reviewed by Peter Craven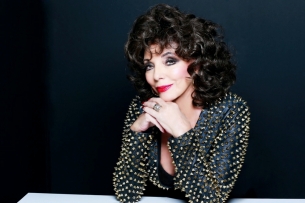 Joan Collins is an enduring marvel in the world of entertainment - no one who encountered her as Alexis in
Dynasty
is liable to forget that extraordinary orchid compounded of evil and beauty that she created. Collins' characterisation turned a viable melodramatic '80s soap into a thing of wonder.
It is typical of Collins that when she won a Golden Globe for the role, she thanked Sophia Loren and Elizabeth Taylor for knocking back the part. She has always been a woman who has had the humour to ride the wild horse of her own sense of style and outrage. Her pieces in
The Spectator
talking about this bit of contemporary life and the glory of that party back then, and a thousand other things, are testament to a personality that can seem by turns glassy and frail, but has an aspect to it that is tough as nails.
And she's consistently funny because she packs a fair bit of reality into that extraordinarily glamourpuss persona. When asked about the fact that her current husband, Percy, was decades younger than herself, she said: ''Well, if he dies, he dies''.
Advertisement
There's a sense that Collins was always destined to be a super-diva of the small screen, partly because she brought to it, by some principle of magnetism and distortion, a prior period of stardom. She says herself that Elizabeth Taylor was the last of the truly legendary Hollywood stars, and Collins, who had been a minor deity on the big screen - though everyone in the world who went to the movies knew who she was - somehow realised when her moment had come.
The girl who had been in
The Sea Wife
with Richard Burton and
Young Bess
with Bette Davis brought to
Dynasty
a mature glamour, a black-hearted middle-aged beauty - always at the edge of camp - of which television had previously scarcely dreamt.
It's amazing to think that Joan Collins, who turns heads in her eighth decade, was born in '30s Britain; that her dad was a showbiz agent; and that her sister - younger, but forever young - is the bestselling trash-mistress, Jackie Collins.
Unlike Jackie, Joan has never Americanised herself, and her days at the Royal Academy of Dramatic Art still show. You can get a BBC DVD set of Joan Collins doing a pile of Noel Coward plays, often playing the minor Gertrude Lawrence - and she acquits herself remarkably well.
There have been a swag of Joan Collins memoirs, but
Passion for Life
has a wonderfully lush collection of photographs, so if you want to feast on Joan Collins with Jerry Hall or the Queen, or whoever, this is the book for you.
It is light as air, even by the standards of Collins' previous memoirs. There is nothing like the harrowing account of how she fought for the life of her daughter, Katy, in a coma after an accident, and won (though the incident is referred to). No, this is a kind of album with chapters under topics, husbands,
Dynasty
, whatever, and it has the easy intoxication of a cocktail - exotically sweet and inscrutably potent - sipped in the sun.
It is, in fact, an absolutely traditional, rather gorgeously produced piece of memorabilia that will delight the soul of anyone who thrills at the thought of Joan Collins, but will also capture the attention of the larger world that is aware of her simply because its sumptuousness (which testifies to the ways her stardom was constructed) reminds us of the bite and sparkle of the woman behind it all.